Before we begin, thank you. Thank you, all, thank you, thank you…
Dr Hook, The Millionaire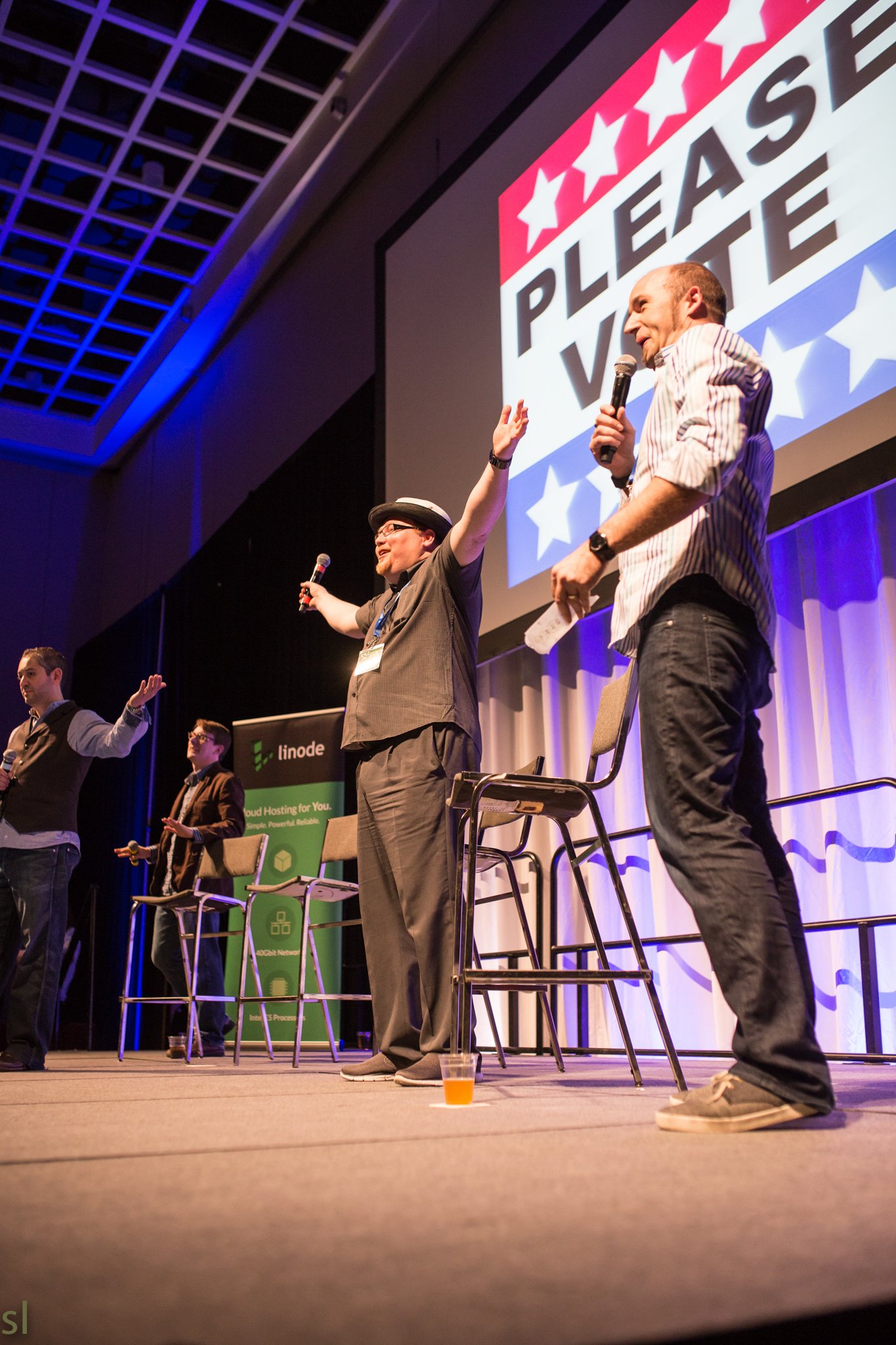 This has been a busy few weeks. Culminating in me becoming forty years of age, of which more later.
I went to the US to see Jono and Erica. Watched The Martian on the plane on the way out. It is a very excellent film indeed, and if you have not seen it, go and see it. And I got to hang out in Walnut Creek for a few days; I can recommend Sasa, Ike's Sandwiches1, and Library on Main2 if you find yourself in town. And see my friends, of course. Dr3 Matthew Garrett introduced me to Longitude, the best cocktail bar in Oakland. And I scored a new laptop.
Aside: amusing story about the laptop. A few months ago I mentioned to Jono that my dad's phone (a Moto G) was dying, and he said, hey, I've got a Samsung Galaxy S5 you can have to give to him if you want. Cool, said I, and handed over fifty euros for it4. Sadly, on returning to the UK, I discovered that the phone was locked to its US T-Mobile SIM and so my dad couldn't use it. So this trip saw its return to the US so Jono could get it unlocked. He rings up T-Mobile USA, and the conversation went something like this5:
Jono: I would like you to give me the unlock code for this here Galaxy S5 that I bought from you
Helpful T-Mobile USA person: No, sir, we can't do that
J: This is ridiculous. You phone operators are all terrible and try to lock in your customers. I know that phones are unlockable, and you're just keeping this secret in a further attempt to deny me my rights over my purchased hardware. I can't believe you'd keep lying about this; give me the unlock code, which I'm technical enough to know exists.
TM: No, sir, we're not refusing to unlock the phone because we're oppressing your hardware rights. We're refusing to unlock the phone because you haven't finished paying for it yet.
J: Really?
TM: Yup. You still have twelve months to go on the contract.
J: … oh. (turns to me) Do you want that laptop you borrowed instead?
So, result. Every one's a winner. And it meant I had a machine that didn't have to be plugged in all the time; my poor Dell M1330 had finally given up the ghost. Nice one, Jono.6
The real purpose for being in the US7 was to travel to SCaLE 14x. Did a couple of talks about Ubuntu phone stuff at the colocated "Ubucon"; one on adding analytics and advertising to Ubuntu phone apps (SCaLE video8) and one with Alan Pope about Marvin, our cloud testing service for phone apps (SCaLE video) (footnote ditto). I was one of the panelists on The Weakest Geek, a "quiz show" where as far as I can tell the rules are that quizmaster extraordinaire Gareth Greenaway asks various people increasingly hard questions about tech and sci-fi, and then Ruth Suehle wins. And there was the main purpose for my travel to SCaLE: Bad Voltage Live, our third live show and second at SCaLE. Video will be out tomorrow. It was a fun show to do, although rather dogged by problems with the AV. Still, we soldiered on, and at the after party a number of people said that they thought that our struggles with the audio and a Mac9 added to the comedy, so that's OK. I'd like to say a special thank you to Linode for flying me out to LA10, the other sponsors for making the show possible, and to Tara for putting up with the dodgy software I wrote to run the Family Feud/Family Fortunes scoreboard for the show.
And the SCaLE team gave us some jerseys with our names on!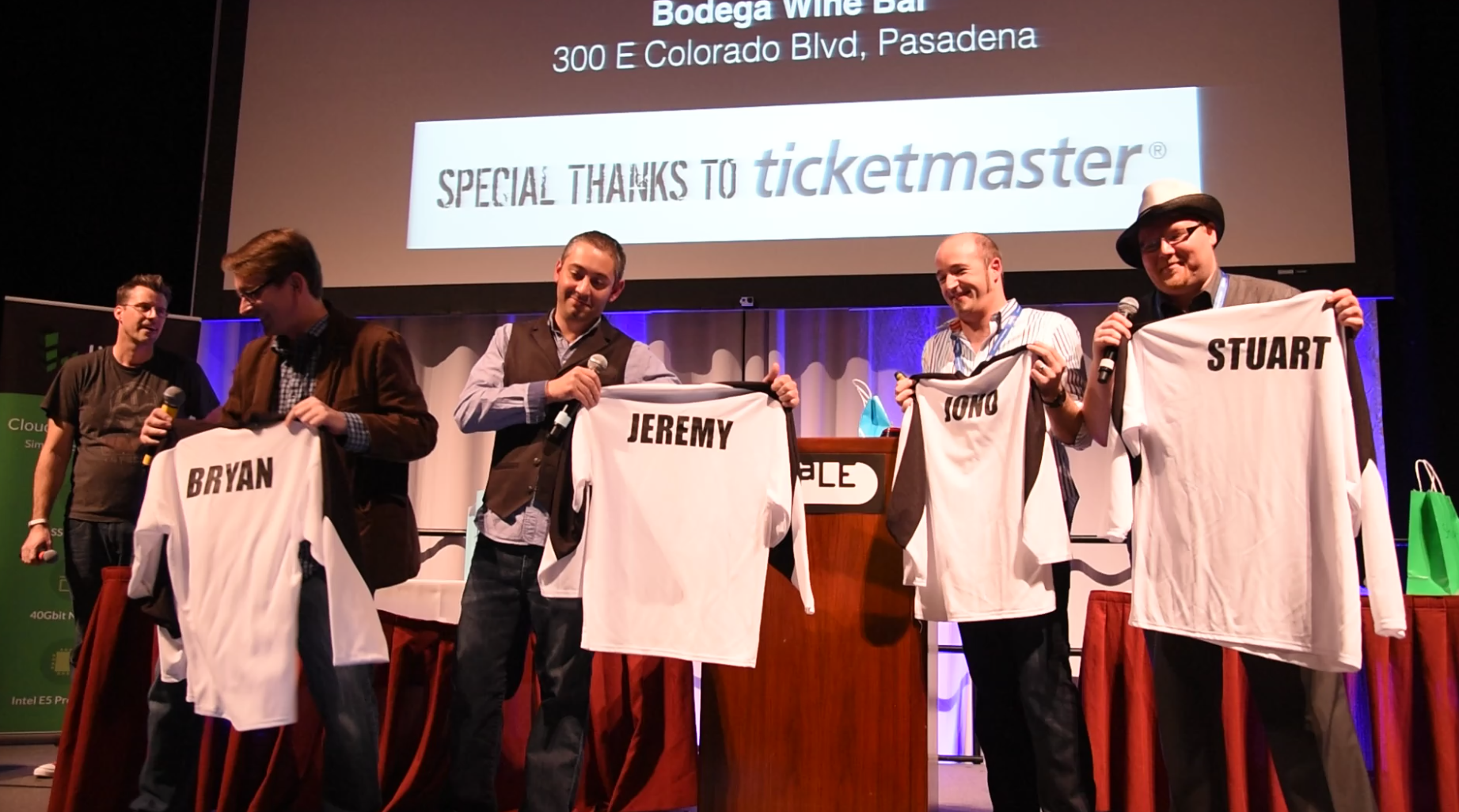 I feel a bit guilty about that. You see, we love SCaLE. The team try really hard to support Bad Voltage, and in return we use them shamelessly. We pressed Ilan into service as our audience fluffer, and made him wear lederhosen11, but we showed our gratitude with a decent bottle or bourbon in return for all his hard work. And we pressed Gareth into service as our Family Fortunes quizmaster, and made him wear a spangly gold quizmaster suit, and then showed our gratitude by getting him… a pink Hello Kitty stepstool so he can be even taller, and a pink Hello Kitty hat with movable ears. Sorry, Gareth. We love ya, buddy. And thank you both for everything.
But the real event for me was a bit at the end of the live show. You see, as of yesterday, as I post this, I am forty years old.
Forty. Cool, eh?
That makes all of this the 2016 iteration of the famous once-a-year birthday post (now in its 12th great year!), but my birthday this year was rather special. It appears to be what Cristian referred to as a "birthday week", and I am perfectly happy with that. It started during the live show, where Jono had obviously done a whole bunch of behind the scenes hassling of lots of people to have them wish me happy birthday on video. I managed to resist the urge to actually cry on stage, but… not by much. Then a whole bunch of us went out on the Saturday night and drank yards of ale and then some sort of all night pie shop12. The day before my birthday13 a whole bunch of us went out to Rub Smokehouse14 and then had celebratory beers15. Niamh and my parents and I went to Amantia for tapas16 and Niamh and I are going to Gordon Ramsay's maze for sushi. I have a gorgeous new watch (a Roamer Ceraline Saphira, which I have not stopped constantly looking at since the moment it was strapped to my wrist, nor have I stopped telling people the time when they don't want to know it). A copy of Watchmen which is signed by Dave Gibbons!17 A little model of Ron Weasley!18 A potato!
So I would like to say thank you. To all the people on Facebook, because once a year I get a million emails of people wishing me many happy returns. To Sam and Andrew. To the people on my birthday video: Rob McQueen, Matthew Walster, Jorge Castro, Rikki Endsley19, Ted Haeger, Adam Sweet20, Ron Wellsted, Bill21, Jono and Erica's parents, Tarus Balog22, Ronnie Trommer, Jessi Hustace and the OpenNMS team, Erica Bacon23, Michael Hall24, Christian Heilmann, Cristian Parrino25, Alan Pope, Bruce Lawson, and Niamh. To the Bad Voltage team: Jono, Jeremy, and Bryan. To the Saturday night partiers26: Jono, Jeremy, Tara, Ilan Maru, Hannah Anderson, Ian Santopietro, popey, mhall, Pete and Amber Graner. To the Birmingham crew: Dan, Ebz, Kev, Matt Somerville27, Matt Machell, Charles, and Rich. To Mike, who is skiing. To Andy and Tom, who I'm seeing next weekend.28 To Jono, for everything, including a rather lovely blog post. To mum and dad. And to Niamh.
I have the best friends. I really do.
Rather enjoying being forty.
It's 11.27, by the way.